Summer 2016 Salute...Food, Life, and New Adventures
Well Summer 2016, what an adventure. You were fun, transformative, not easy at times but definitely grounded in our collective needs. I myself was found reflecting a lot, revising at every turn and connecting to my overall journey from a much deeper perspective and that kind of deep diving can be as freeing as it is exhausting. It's totally possible to feel the opposite ends of an emotional spectrum. In fact it's necessary. Allowing any hurt or sadness to be present along side a grateful heart is beautiful, healing and sacred. Acknowledgement of this creates a balance that transfers into the waiting hands of self awareness. May sound corny but true. The way I like to walk out this process is through creativity. All my endeavors provide an integrative map for each one of my hero's journey. Being present to the various phases of any particular story is vital to my unlocking key pieces of wisdom. I do this through stillness, impressions, perceptions, and curiosity which then leads to inspiration and those lovely Ah Ha Thank You moments. You know what I'm talking about and if you don't I emphatically suggest allowing yourself to sit quietly for as many minutes as your day allows. It'll come. Creativity is my path, my calling, my love and am grateful for every ounce immersed in this authentic self. So on that note , let's get started with this week's story and pay homage to the last few months. The following food adventure will walk through the many creations(mostly impromptu) that took place as well as introduce my foray into a new visual media format by presenting my music video director/editor/film maker debut. But first, here to get the mood set is a lovely scene below from my sisters summer beach adventure:)
Watermelon
Watermelon is synonymous with Summer. The perfect treat to hydrate from the heat. I saw a lot of pictures of people eating it with a spoon from a halved piece. I can honesty say I've never done that before. Definitely will have to give it a try. My favorite way to enjoy Watermelon is cut up in a bowl with Lime Juice, Dried Cilantro, Salt, and Smoked Paprika. There are multiple ways to get creative. Check out these Watermelon links below as well as this Summers pics:)
Tomatoes
I played around this past month with several Tomato options from baked, fried, and dehydrated. For baked, I topped a thick Tomato slice with Vegan Smoked Mozzarella, Dried Basil, and Black Sea Salt then popped in the oven till it all melted. So satisfying. I also love dehydrating which you'll see more towards the end of this food story and is what I did with a bunch of left over Cherry Tomatoes one weekend. Talk about YUM. They turned into a great snack. The last Tomato adventure was one my Grandma Swann used to make and I do believe these would've made her proud. Fried Green Tomatoes. To keep with the Vegan/Gluten-Free theme I used Cashew Milk with Lemon, Flax Egg, and All Purpose Gluten-Free Flour to coat before frying in a shallow pool of Safflower Oil. Check out all the pics below to see how it turned out:)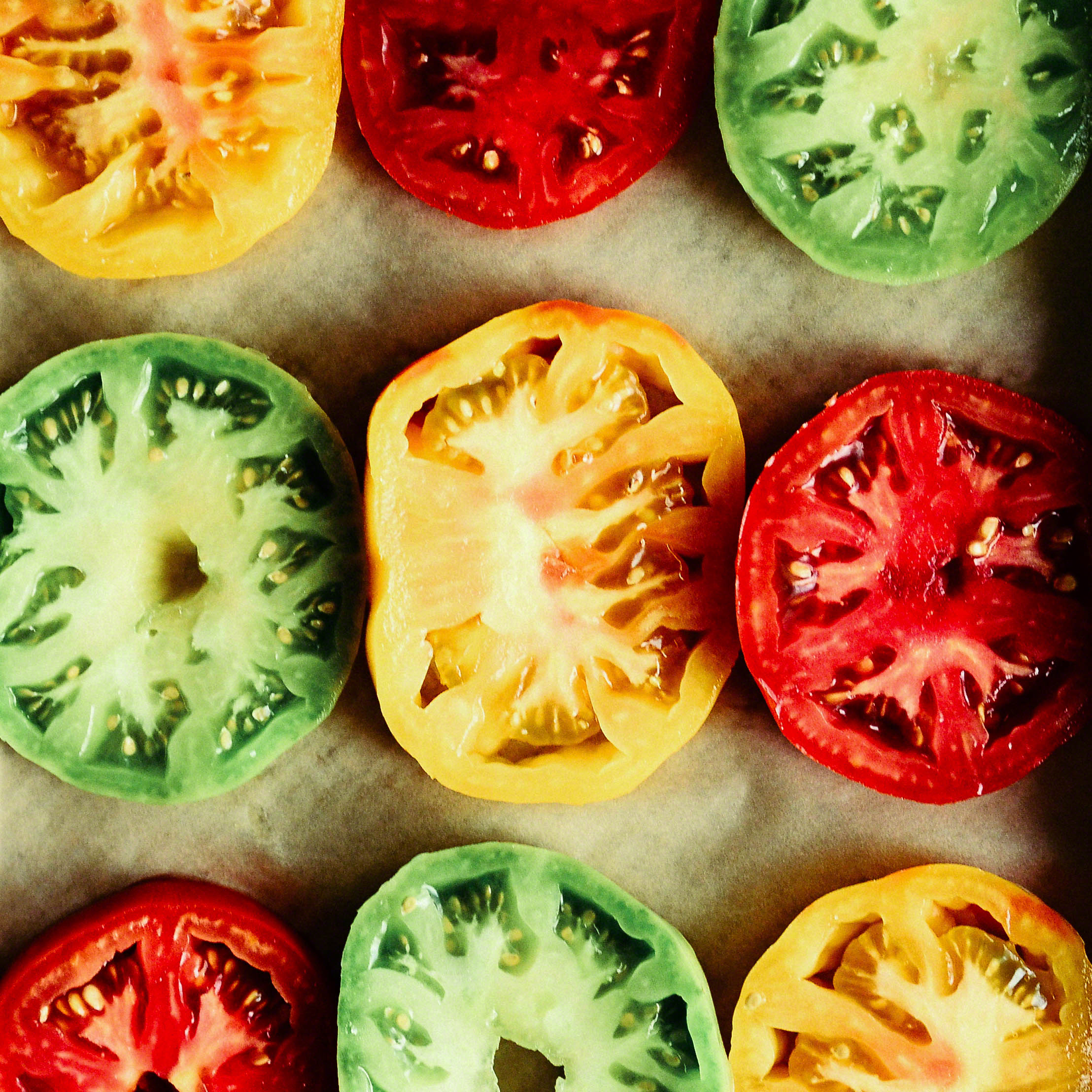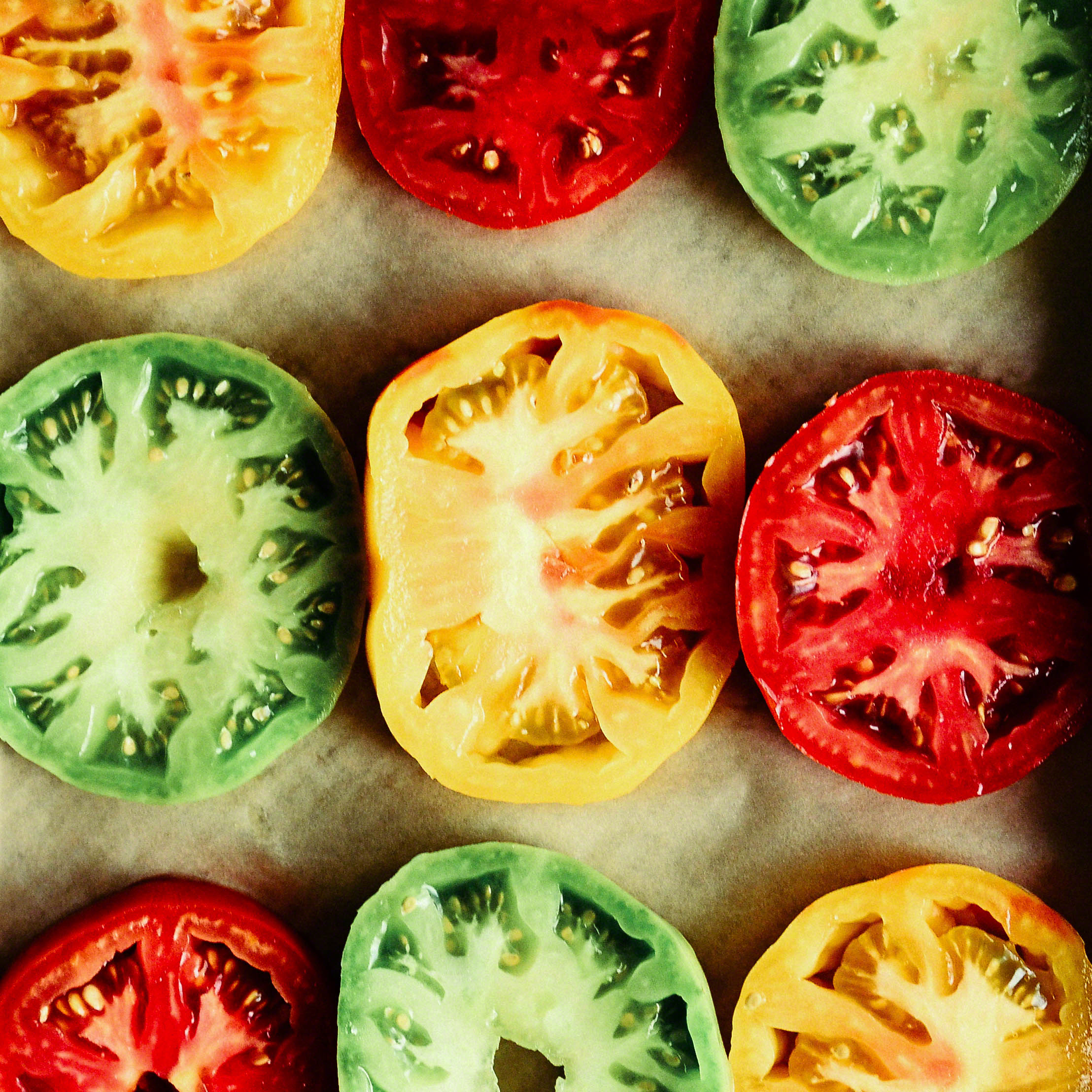 Blueberry Lemonade
Sometimes freezer cleanings yield the start of something delicious. In this case Blueberry Ice Squares. I threw the Blueberries in a pan with Coconut Water, Smoked Paprika, Lemon Juice, Maple Syrup and let it simmer on medium for 30 minutes. Strained the liquid and let cool then added to mini ice square trays and froze. Lemonade with Blueberry Ice Squares. YUM...and yes that's me, CHEERS:)
Ice Cream and Pops
Summer is for sweet treats and cold ones at that. My favorite is Ice Cream such as this luscious bowl below topped with Raw Cacao Magic Shell(coconut oil, raw cacao powder, maple syrup), Salt, Crushed Walnuts, and Smoked Paprika but I must say Strawberry Sorbet Pops kinda took the spotlight this summer. Frozen Strawberries, Coconut Water, Lime Juice, Ice, and Liquid Stevia.
Mix, Pour, Freeze, Eat, Enjoy
Check out the pics below as well as full recipe for Raw Cacao Coconut Milk Ice Cream:)
Veggies
Veggie Wraps, Dehydrated Pepper and Zucchini Fries, Pickles, and Zucchini Linguine with Coconut Cashew Alfredo. Lots of Goodness in that one sentence. The Coconut Cashew Alfredo alone is worthy. Coconut Milk, Lemon, Nutritional Yeast, Cashews, Miso, Tarragon, and Olive Oil blitzed together then toss with Zucchini Linguine. The Pickles were simple. I placed them in a White Distilled Vinegar, Water, Sugar, Dill, Tarragon, and Pink Peppercorn mason jar bath then stored in the refrigerator till ready to enjoy. And Veggie Wraps were pretty much of the moment with what's leftover or on hand. You can definitely get creative with these.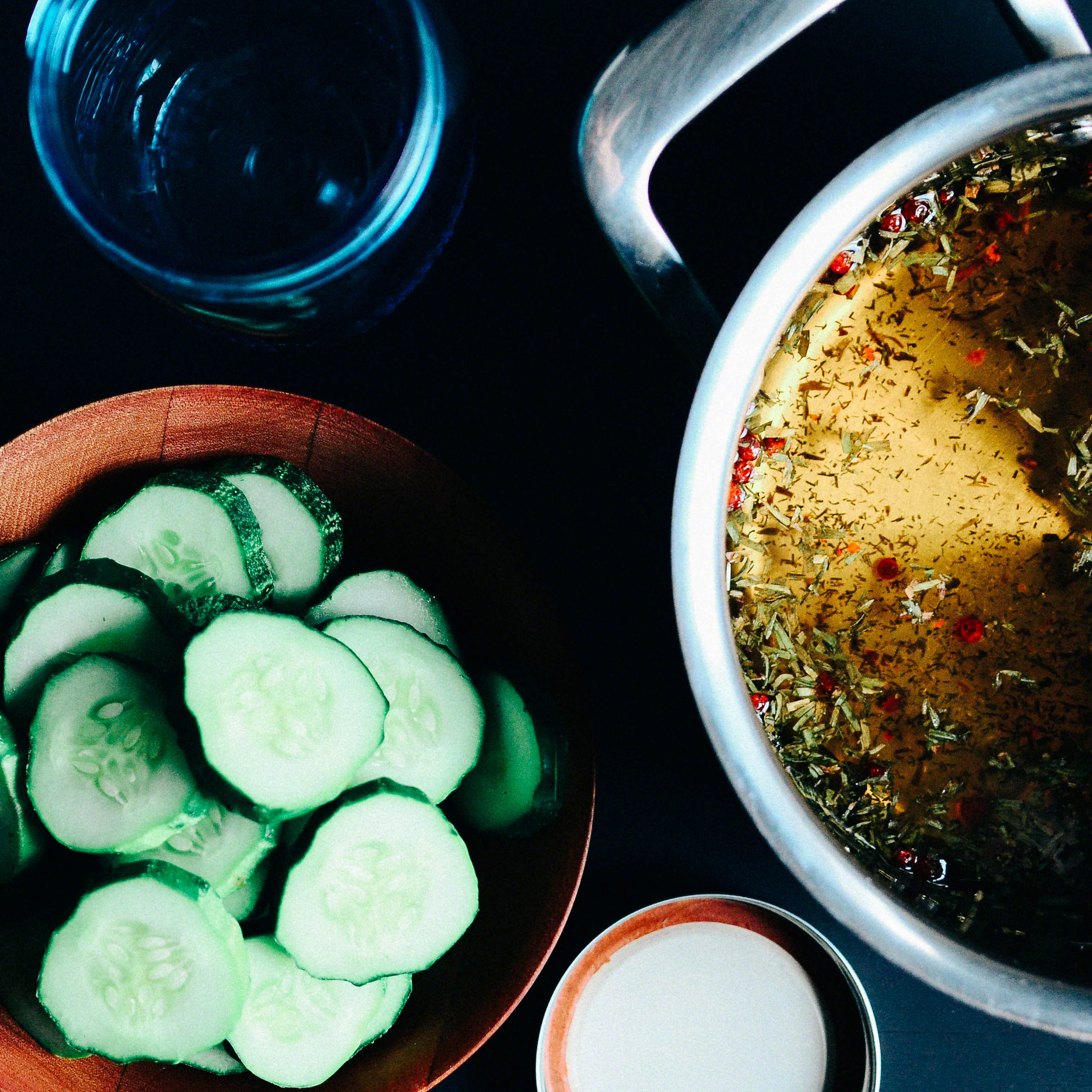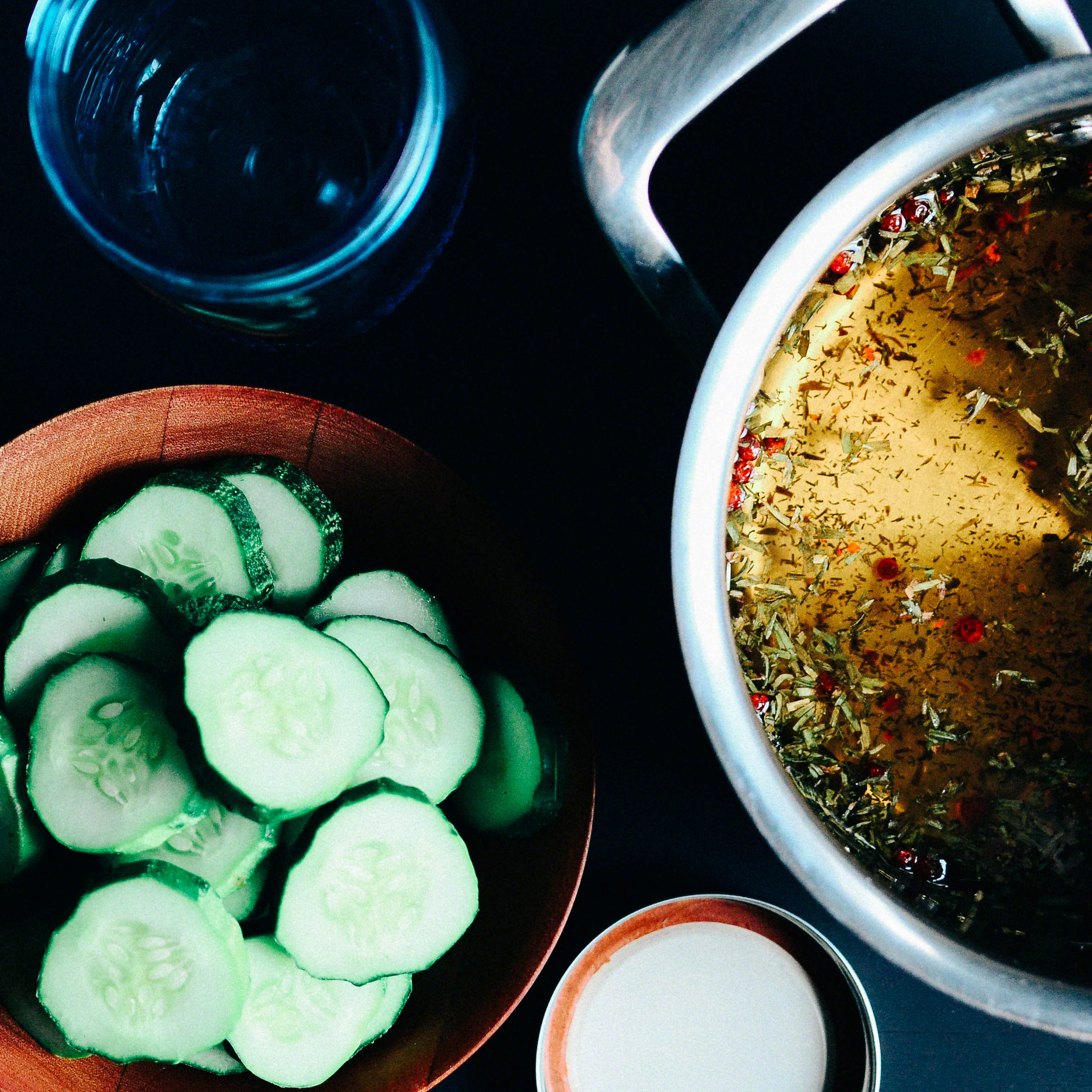 Dehydrated Goodness
OK...I love dehydrating. It's my thing and this summer brought LOTS. From Pineapple, Cherry Tomatoes, Kale, to Peppers, Zucchini, Chickpeas, and Eggplant Bacon. YEP, that's right. Vegan BLT. Check out the fourth picture below of a before the dehydration started. I used Liquid Smoke, Maple Syrup, Smoked Paprika(yeah I know, if you've been reading this whole adventure I'm addicted, use it everywhere), Salt, and usually whatever Spice, Herbs that are around and inspire. Pre-soaking is key for that awesome flavor.
More Summer Food Fun
And to round out this Summer's Food Story Adventure I leave you with these final delights. Beet Juice, Pancakes, Herbal Cola with Lavender, Mustard Micro Greens, Morning Oatmeal with Strawberries and Bagel with Lox.
And the Finale...
Music Video
So this summer brought another opportunity to integrate the Video work I do with food to a familiar format, Music Video. My days of being a makeup artist on numerous sets brought a passion for visual storytelling and from behind the camera I can create with a new level perspective. It was an honor to work with Kelly Rogers Music. Her gracious heart entrusted me to help tell the visual moving side of her beautiful project and there's absolutely no greater gift. Grateful. Be sure to stop by Kelly's website as well as download her latest cover The Boys of Summer from iTunes. Check out our video collaboration below:)
So there you have it Folks. My visually creative summer in a nutshell with one BIG final farewell wave.
The gesture reminds me of leaving my Grandma Swann's house in Oak Ridge, TN as a child. She lived on a hill and per tradition we would wave to each other as the car pulled away. With her in the window and me in the back seat we'd keep waving as the distance increased until both of us were out of sight. My family and I still do this with each other no matter where we are, always happily waving. So, farewell Summer. Here's me waving to you. I know you shifted last week but with cooler temperatures now rolling in there's new creative stories to be had. I'm now at the bottom of the hill and turning for one last wave. See ya next year:)
Now let's ease on into fall and see what new adventures await...