Alfalfa Sprout and Shaved Golden Beet Salad topped with Sesame Garlic Dressing
Hello 2016. I know we officially said hello 31 days ago but as I'm now posting for the first time this year it truly feels like a proper hello. January for me is always a beautiful time of recentering, recalibrating, revisting, revising really any kind of renewal refocusing process that allows me to come home within and just listen. Generally I love to sit during this time in complete silence as the absence of noise affords so much more to be heard. I also like to remove the presence of any lingering rush messages that a linear existence can project. Operating at this slower pace provides me with a much clearer channel and it's in this space that I deeply feel connected. Now I pretty much move constantly through life in the attitude described above but several times a year such as now I really dive deep. That's why January's food story post is now coming into existence. And metaphorically it speaks to the journey.
Alfalfa Sprout and Shaved Golden Beet Salad topped with Sesame Garlic Dressing was born from the pure joy and inquisitive need of growing sprouts. I wouldn't call myself an expert yet but I'm definitely developing my own kitchen setup through generations of know how and will be sharing more of these insights as we get into the year. We'll just call it my Sprout Series. Aside from being highly nutritious the other great thing about growing Sprouts is the perspective shift it provides. The process of growth through it's simplicity really teaches conscious awareness. One of my favorite quotes is by Robert Ornstein in his book Evolution of Consciousness. He states "Developing instant comprehension, paradoxically, takes time and is a process too subtle for those who demand everything immediately". This really speaks to the fast paced existence our world has adopted and he wrote that sentence 23 years ago. So you can imagine if that energy was present then how amplified it has become now. That's why growing some type of food is so important. It calibrates our awareness to the true and beautiful process of life. That's why I named this website Seed Plant Water Grow. It's the ultimate metaphor. Everything in life follows this progression but the catch is...it's not instant. Instant takes time. So like Dr. Ornstein said if you "demand everything immediately" then true comprehension most certainly will be eluded because it's not something you can control into existence. It's through the journey. And by being present and saying yes to each step, a new awareness is born. So growing Alfalfa Sprouts is a great way to watch this journey take place. The seeds don't instantly react to water and sprout before your eyes. You have to nurture them through a 3-5 day process. And during that time this magical growth takes place. So by way of a direct activity, you indirectly lock in it's growth message. And that's pretty AWESOME. So now let's get started with this week's food story adventure:)
Here's what you'll need to get started...
Alfalfa Sprout and Shaved Golden Beet Salad
Arugula
Golden Beet
Black Sesame Seeds
Quart Mason Jar w/Sprout Strainer Lid
Sesame Garlic Dressing
1/4 cup Sesame Oil
1 tbsp Olive Oil
1 tbsp Garlic
1 tbsp Braggs Liquid Aminos(Tamari or Soy Sauce will do as well)
1 tsp Maple Syrup
3 tbsp Rice Wine Vinegar
1 tsp Parsley
1 tsp Lemon Pepper
1/4 tsp Salt
First things first...we gotta grow us some Alfalfa Sprouts. Handy Pantry has this groovy little starter kit that comes with everything you'll need or if you already have a 1 quart mason jar just order some Certified Organic Alfalfa Seeds, a Sprout Strainer Lid, and you're good to go. Make sure before starting to give the jar and lid a good cleansing.
To get started, place 1 tbsp of Alfalfa Seeds in a mason jar and rinse them really well. Then fill jar with cool water. Just enough so the seeds are covered and can get a good soak. Screw on strainer lid and soak in a dark corner for around 8-12 hours. After they've soaked, drain water and place jar at a tilt with lid facing down in a large bowl and place back in a dark space. This will help drain any remaining water. You can put them in your pantry or I just leave mine out in the kitchen tucked away from sunlight.
You'll want to rinse them twice a day. Usually at this time I'll let them soak for a minute or two before draining the water. After completion of a full day, you're little seeds should begin sprouting.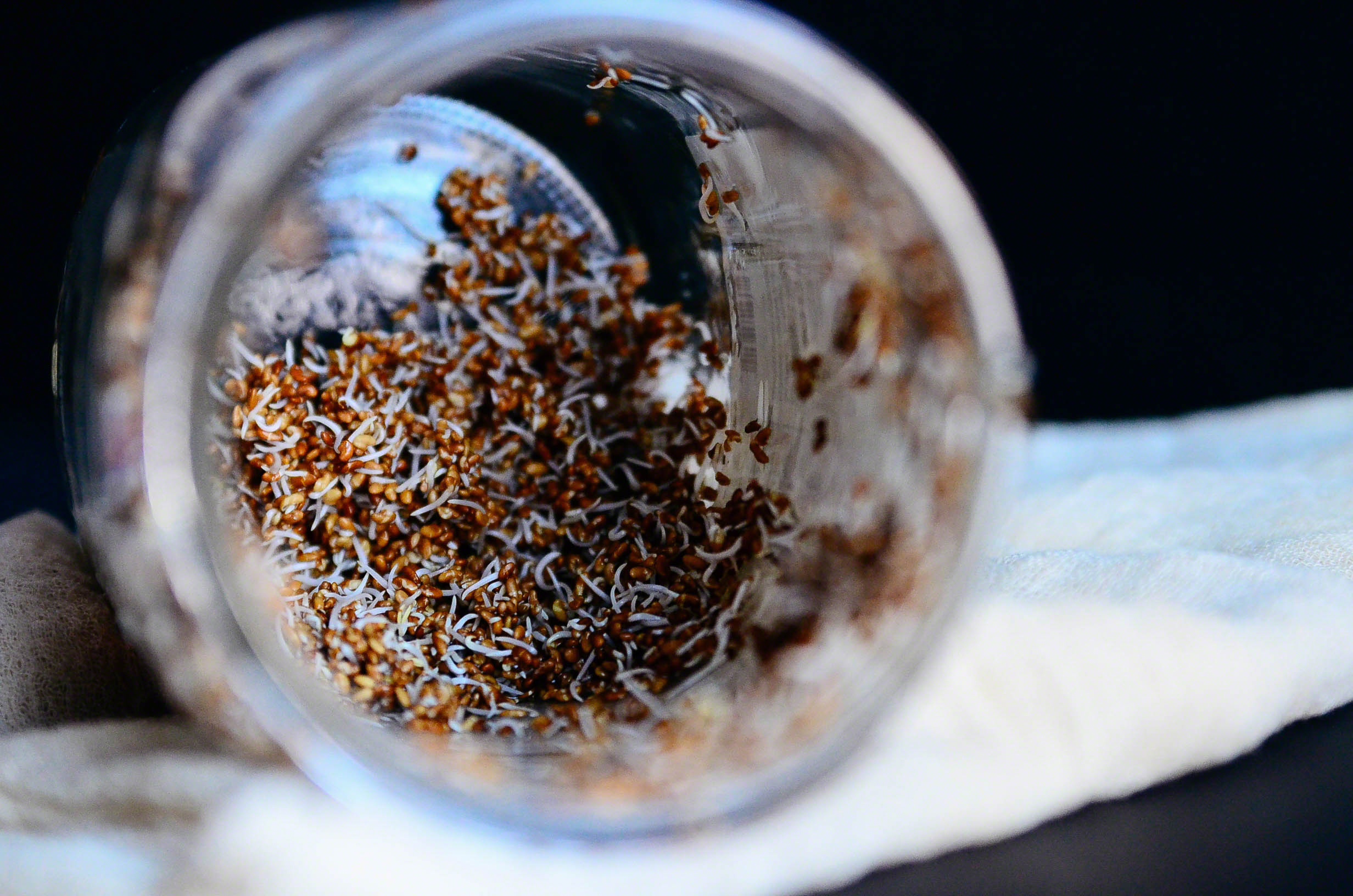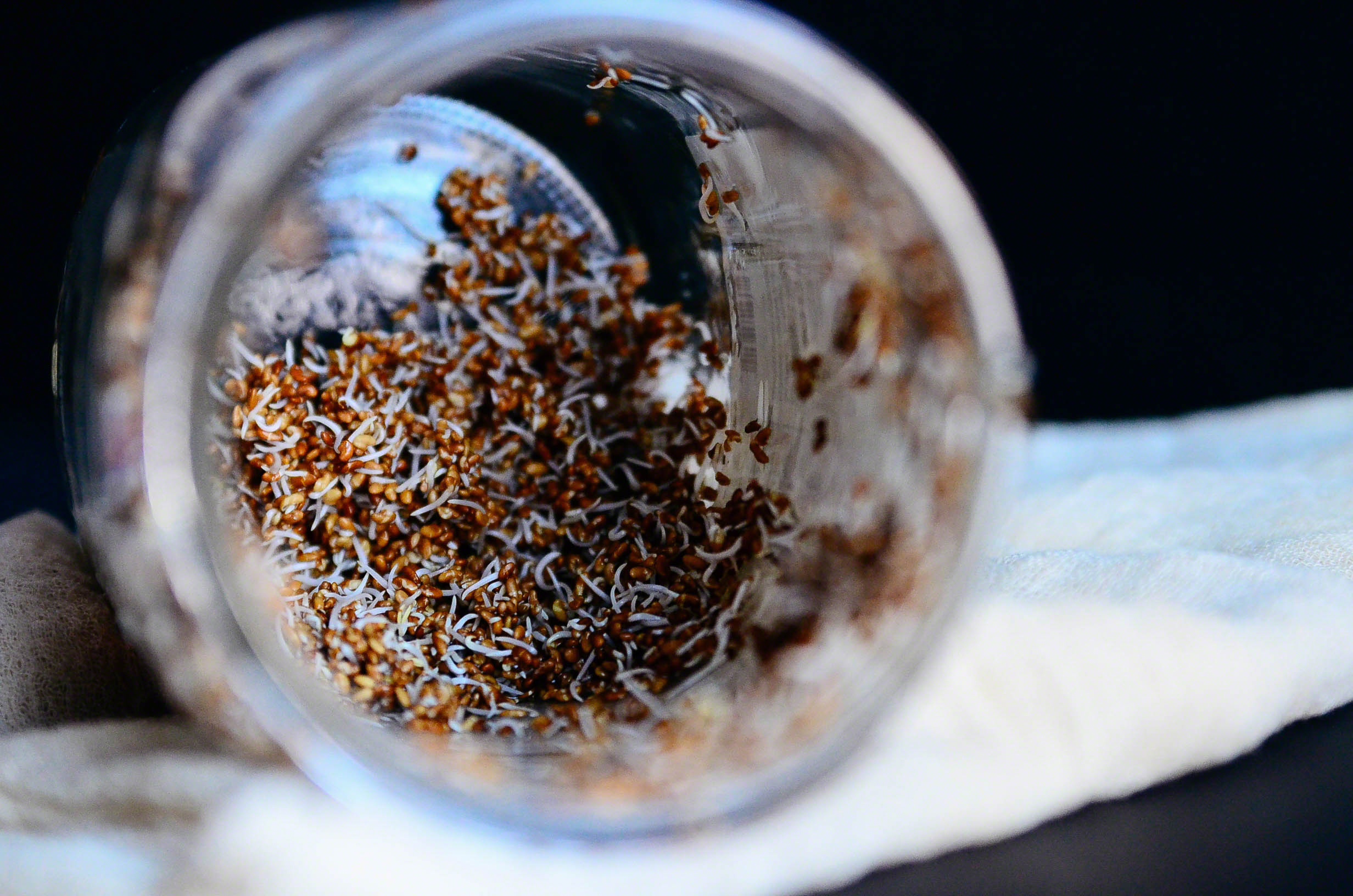 It'll take a 3-5 days to grow your Alfalfa Sprouts. I usually go the full 5 days.
When you're done Sprouting, place them in direct sunlight for a few hours so they can turn green then store in the refrigerator in the jar they grew for up to 2 days(mine never last longer). Now that's simple. When you're ready to eat your sprouts(after they've been stored) give them a good long rinse. Add them to soups, salads, sandwiches, stir-frys you name it. They're loaded with vitamins and minerals such as Calcium, Vitamin K, and Vitamin C. Just a quick note though...there's been reports of seed linked contamination in the years past so please be sure to use certified organic non-gmo seeds for a more enjoyable sprouting experience.
Now that we've grown some yummy nutritious Alfalfa Sprouts we can move to the creation of the Sesame Garlic Dressing and start building our Homemade Alfalfa Sprout and Shaved Golden Beet Salad. Just place ALL the Sesame Garlic Dressing ingredients in a bowl and whisk away. Then place in a dispensing container. Store remainder in refrigerator.
Then grab some Baby Arugula and chop into small pieces as well peel the the skin off a Golden Beet and grate a few tablespoons worth.
Now it's time to plate up. Place your chopped Arugula first, then add Alfalfa Sprouts, shaved Golden Beets, Black Sesame Seeds, and top with Sesame Garlic Dressing. ENJOY:)
Bonus Announcement...
SO...the kind folks at Real Simple magazine asked to share one of my photos for their February 2016 issue(on newsstands now). Out of my mind Grateful. There are so many Instagram accounts who share with them daily so to be selected is beyond Amazing. The photo of my birthday doughnuts from Vegan Vee Gluten Free Bakery was showcased on this websites Instagram account @seedplantwatergrow and selected through one of Real Simple's conversational hashtags. The red arrow in the picture points to my feature. Check it out next time you pass one on a newsstand...page 12:)💜💜💜