Honey Butter Bourbon Pecan Chess Mini Muffin Poppers topped with Nutmeg
One evening a few weeks back I was sitting at home when the craving for Chess Pie over came my senses...a natural occurrence this time of year. Of course I got off my butt and went straight into the kitchen to make one. But here's the thing...when it comes to Chess Pie I like the filling not the crust. Don't get me wrong, I'm a total crust gal when it comes to Fruit Pies or Cobblers but Chess Pie...give me the filling. So I decided to do exactly that and make one without the crust. Instead I altered my recipe by adding just a little more corn meal into the batter and baked away. It came out with a super light and moist cake like texture. I thought, wow, these would be great as mini muffins. And that's where the making of this weeks food story adventure began. Of course adding pecans was a no brainer because along side Chess Pies this season are the ever favorite Pecan Pies. Honey Butter Bourbon Pecan Chess Mini Muffin Poppers brings a new twist on these holiday favorites. Hopefully these too will become a new holiday treat for years to come. Let the adventure begin...OH and don't forget to check out the video below of the entire process. ENJOY:)
Here's what you'll need to get started...
Chess Muffins
(bake at 350 for 30 minutes)
3 Eggs
3 tbsp Corn Flour
1 tbsp All-Purpose Gluten Free Flour
1/2 cup Sugar
1 tbsp Lemon Juice
1/4 cup Dairy Free Butter
1/2 cup Cashew Cream(1/2 cup Cashews/ 1/2 cup Water...Blitz in high speed blender)
1 tsp Vanilla
1/4 tsp Salt
Whole Nutmeg
Mini Muffin Baking Pan
Honey Butter Bourbon Pecans
(roast at 350 for 18-20 minutes)
1 1/2 cup Pecans
1/2 cup Bourbon
2 tbsp Honey
2 tbsp Butter
1 tsp Vanilla
1/4 tsp Salt
1/4 tsp Tumeric
So let's start with the Chess Mini Muffins. Place Eggs and Sugar in a bowl and give it good whip. Then add ALL the other ingredients MINUS the nutmeg(save that for last) and give it a good stir to incorporate.
Next...line a Mini Muffin baking pan with Mini Baking Cups and pour batter. Don't over fill as these little lovelies will get quite puffy as they bake. Place in a 350 degree oven for 25-30 minutes. When finished baking remove and let cool.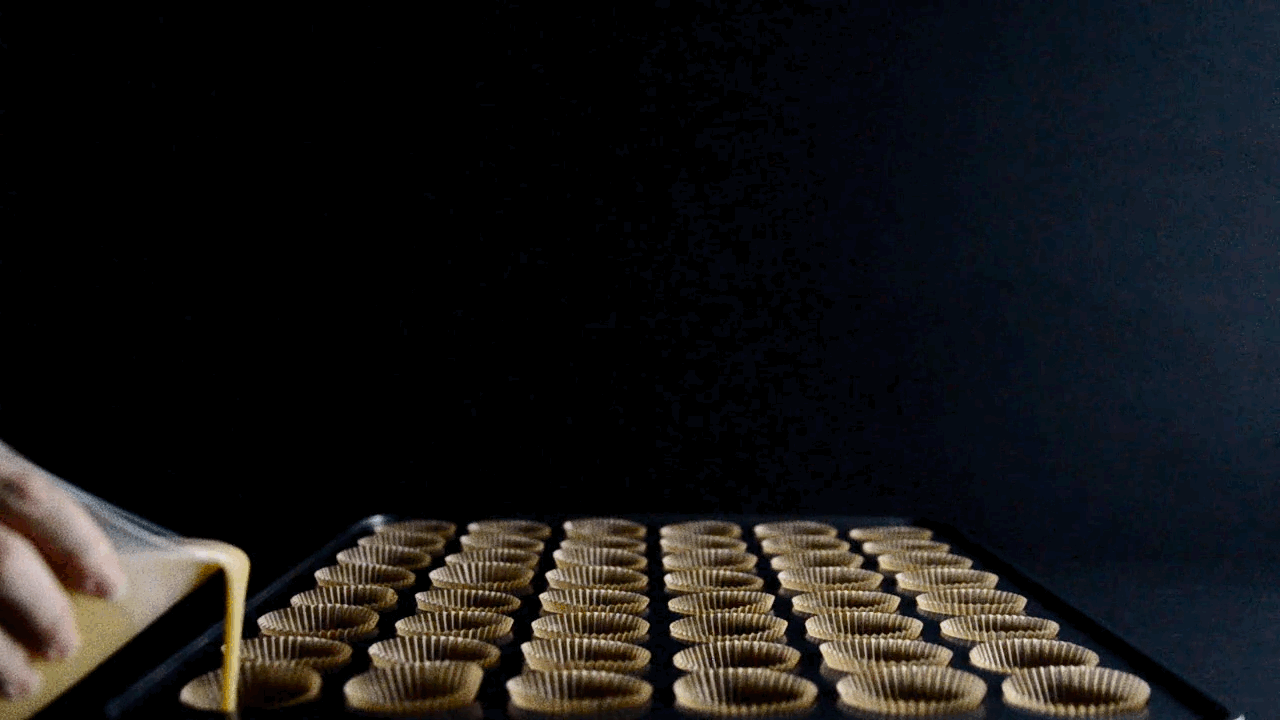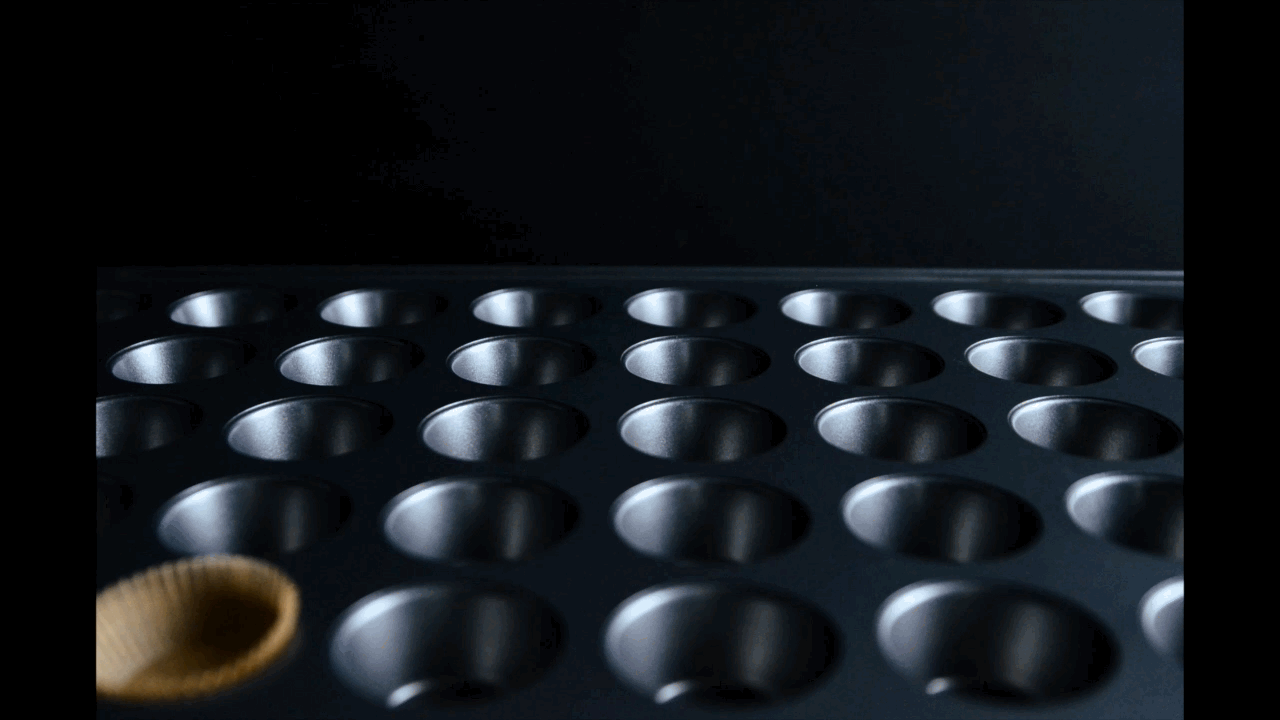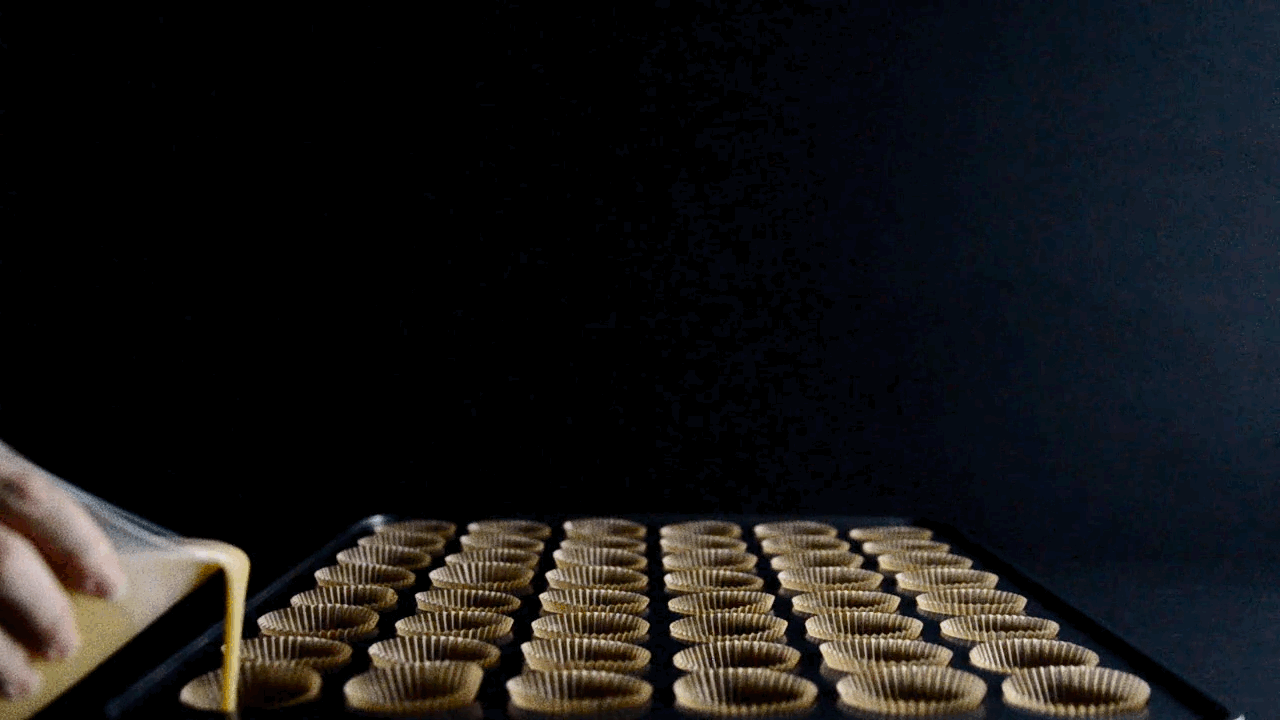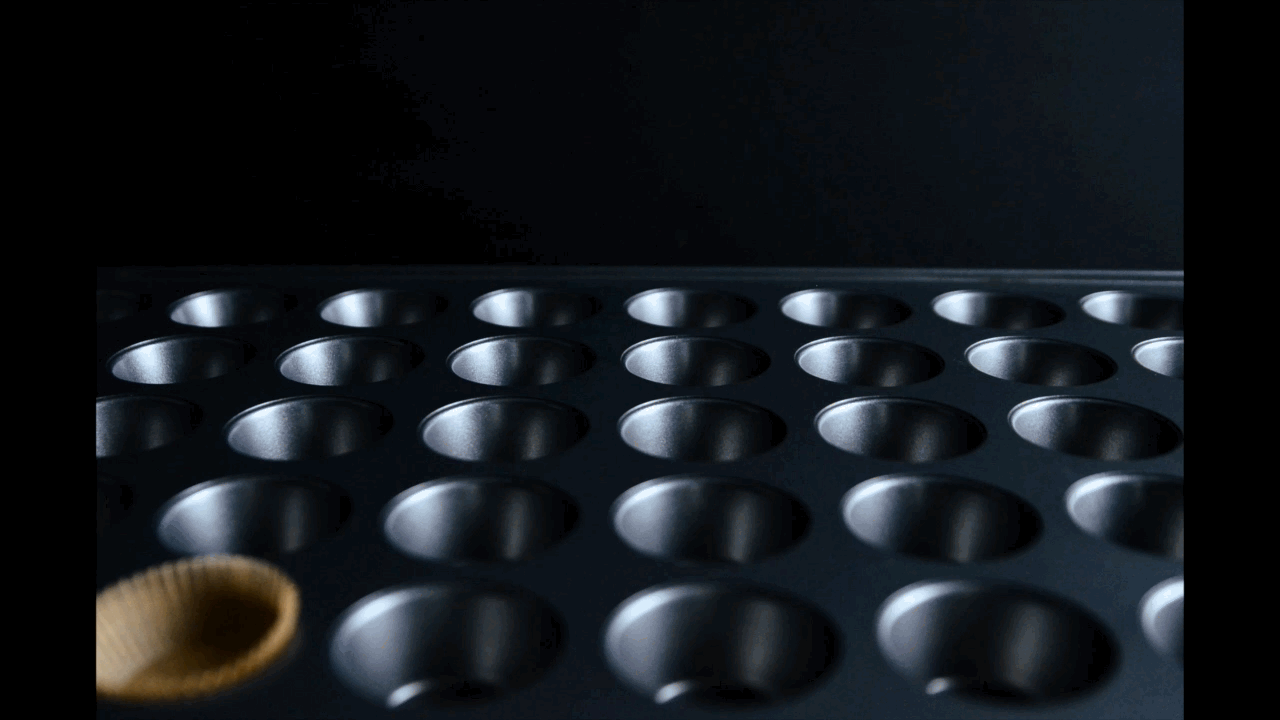 Now let's work on the Honey Butter Bourbon Pecans. Place Bourbon in a sauce pan and heat on medium high till reduced by half. This takes approximately 5 minutes from the point it starts to simmer. Then add the Honey, Butter, Vanilla, Salt, and Turmeric. Give it another go on medium heat for a few minutes then add the Pecans. Toss Pecans in the sauce till evenly coated and the sauce starts to tighten up a bit then transfer to a non-stick baking pan and place in a 350 degree oven for 18-20 minutes till golden brown. I like to give it a good toss at 8 minutes to incorporate the yummy gooey sauce. When finished baking remove from oven and let cool before separating. The Turmeric gives them a lovely golden hue so don't panic if your fingers come away slightly yellowish tinted after the separation process.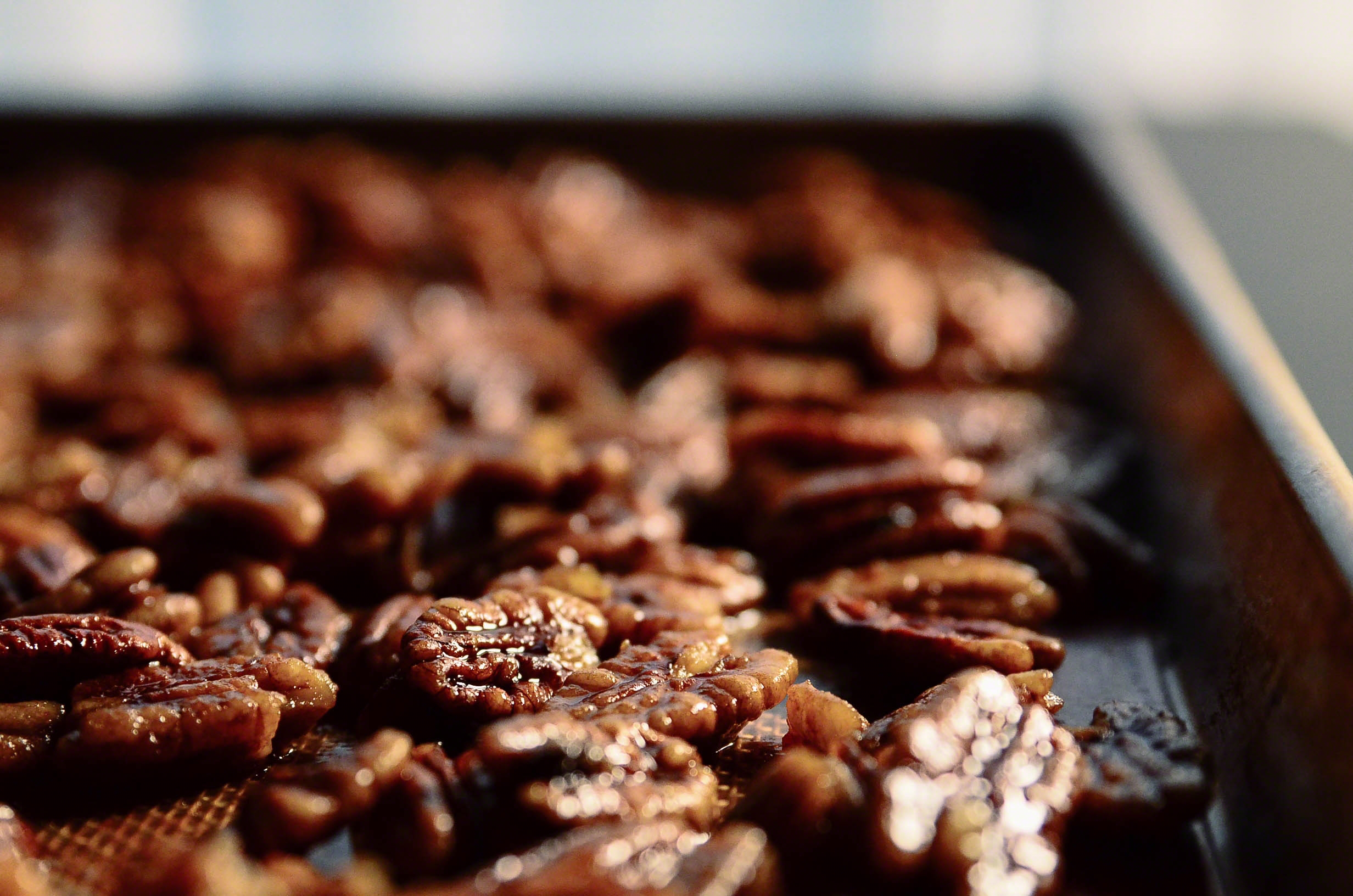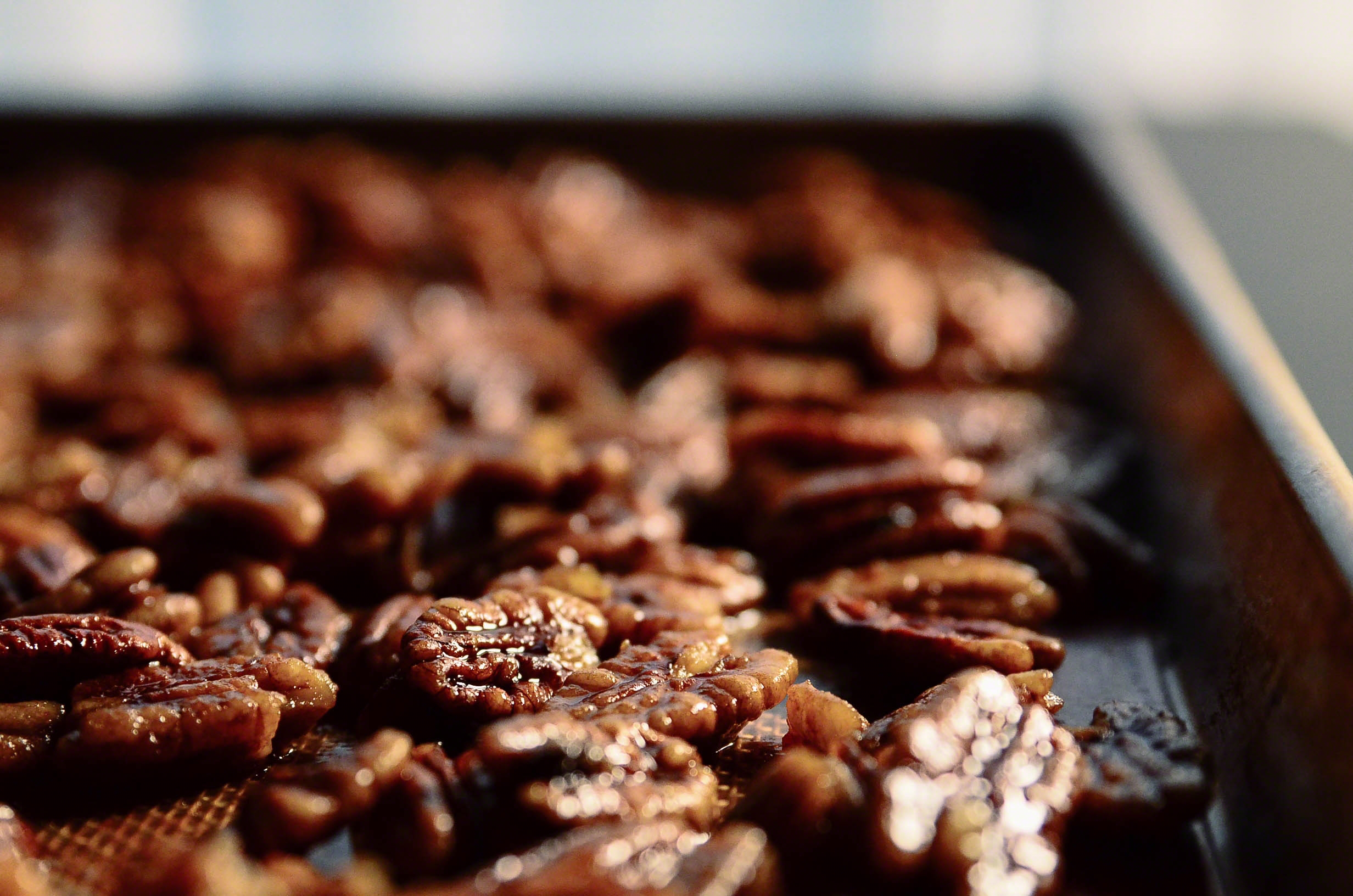 Now it's time to assemble and here's where the Nutmeg becomes the star. Place as many Chess Mini Muffins as you can eat on a plate, shave a healthy dose of Nutmeg on top, and pop in the center a Honey Butter Bourbon Pecan. Enjoy:)