Chocolate Dream Birthday Cake(Vegan & Gluten-Free)
TODAY is my favorite sister's Birthday. Actually...she's my only sister but she happens to be my FAVORITE person on this planet so naturally a food story adventure was absolutely without question in order. Her name is Kirsty so please give her a fist pump Happy Birthday shout-out as you continue reading. I'm such a lucky gal to have her as a sibling...I Love her dearly. Navigating the gift of life is not always easy and I'm so very grateful God saw fit to provide me with a beautiful travel companion. What makes our relationship truly special is our ability to be honest and vulnerable with each other...always allowing room to navigate feelings in an open forum without the fear of judgements, labels, or blame. Having at least one person in life that can hold that kind of space is a beautiful precious gift and one I do not take for granted. We may not agree on everything but that's the unique beauty of individuality. One thing we always agree on though is CAKE. My sister and I are very picky about our sweet calories. We won't give them up on a whim. It has to be super delicious, worthy, and satisfying and nothing's more SATISFYING than a good ole Chocolate Cake. This food story gave us a chance to interact creatively and enjoy some long overdue sister time. Continue below to follow this adventure kicking it off with a very SPECIAL Birthday video tribute of our day together:)
Here's what you'll need to get started...
Chocolate Cake
3/4 cup Teff Flour
1 cup All Purpose Gluten Free Flour(Bob's Red Mill)
1/4 cup Arrowroot Flour
1/2 cup Cocoa Powder(plus more for topping)
1/2 cup Sugar
2 tbsp Instant Espresso Powder
1 cup Banana Mash(approx. 2 bananas)
2 Flax Eggs(2 tbsp flax meal/6 tbsp water)
1 cup Cashew Milk
1 tbsp Apple Cider Vinegar
1/3 cup Coconut Oil Melted
1/4 cup Unsweetened Applesauce
2 tsp Almond Extract
1 1/2 tsp Baking Powder
1/2 tsp Baking Soda
Vegan Chocolate Chips
Colored Flamed Birthday Candles
Chocolate Frosting
1 cup Dairy-Free Butter
3 cups Powdered Sugar
1/4 cup Cocoa Powder
2 tsp Almond Extract
Butter and flour a 9 inch square baking pan. Set aside. Go ahead and pre-heat oven to 350 degrees. Then sift together the All Purpose Flour, Teff Flour, Arrowroot Flour, Cocoa Powder, Baking Powder, and Baking Soda into a large bowl.
Prep your wet ingredients. Start by adding 2 tbsp of flax meal to 6 tbsp of water...whisk together. Then add 1 tbsp of Apple Cider Vinegar to 1 cup Cashew Milk(makes Cashew Buttermilk) and set aside. Mash Banana's in a bowl and to that add the Flax Eggs, Cashew Buttermilk, Sugar, Instant Espresso Powder, Melted Coconut Oil, Applesauce, and Almond Extract. Mix together.
Now carefully fold the sifted flours into the wet mixture to combine and add to the buttered/floured pan. Place in pre-heated oven for 50-55 minutes.
While the cake is baking, set out 1 cup of Vegan Butter to soften and sift the Powdered Sugar and Cocoa Powder into a mixing bowl. Set aside. When the cake is done remove from oven. While it's cooling prepare Cake Frosting. Add softened Vegan Butter to the mixing bowl of sifted powders and whip together on medium to medium high. Once incorporated add the Almond Extract.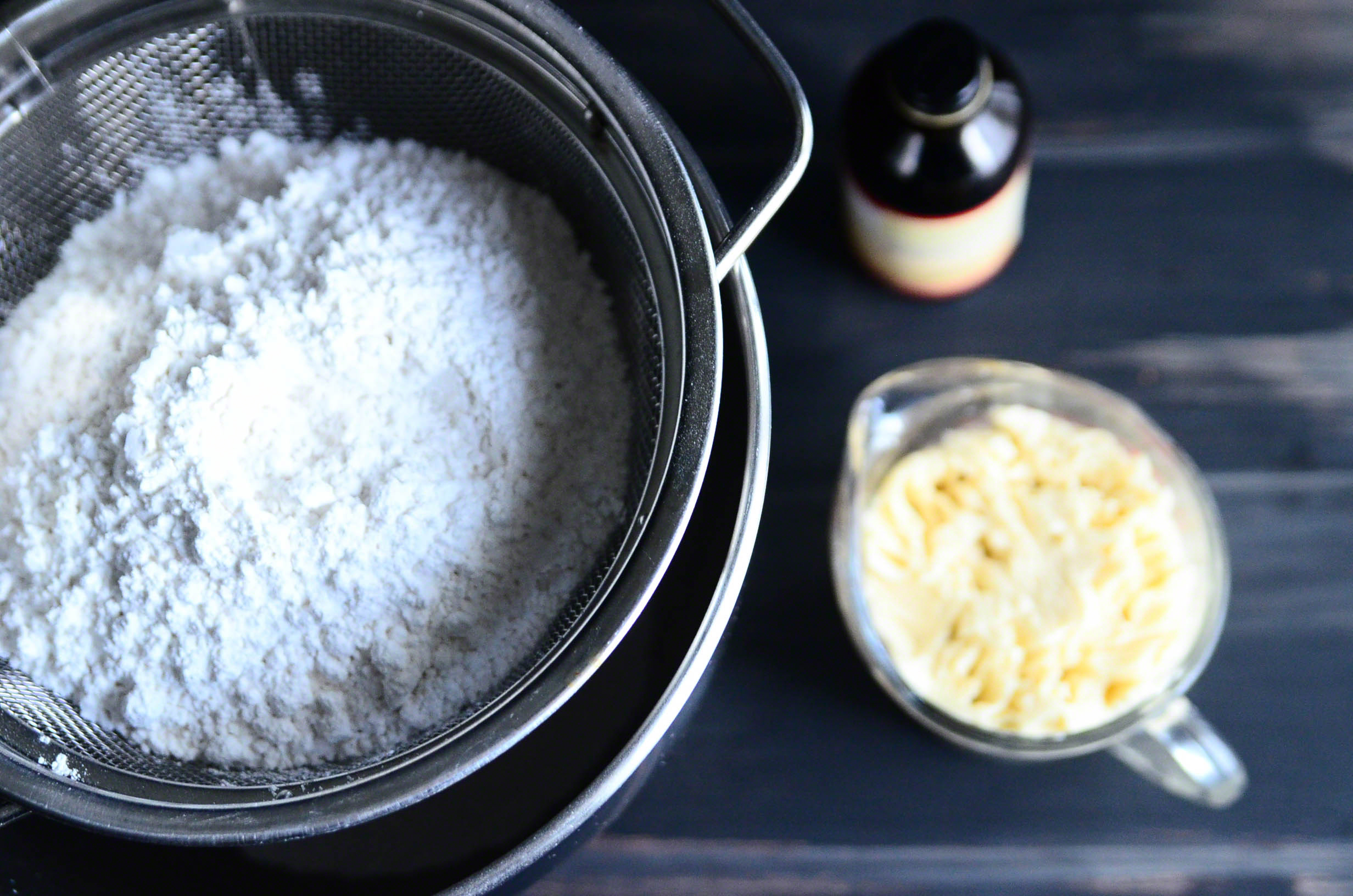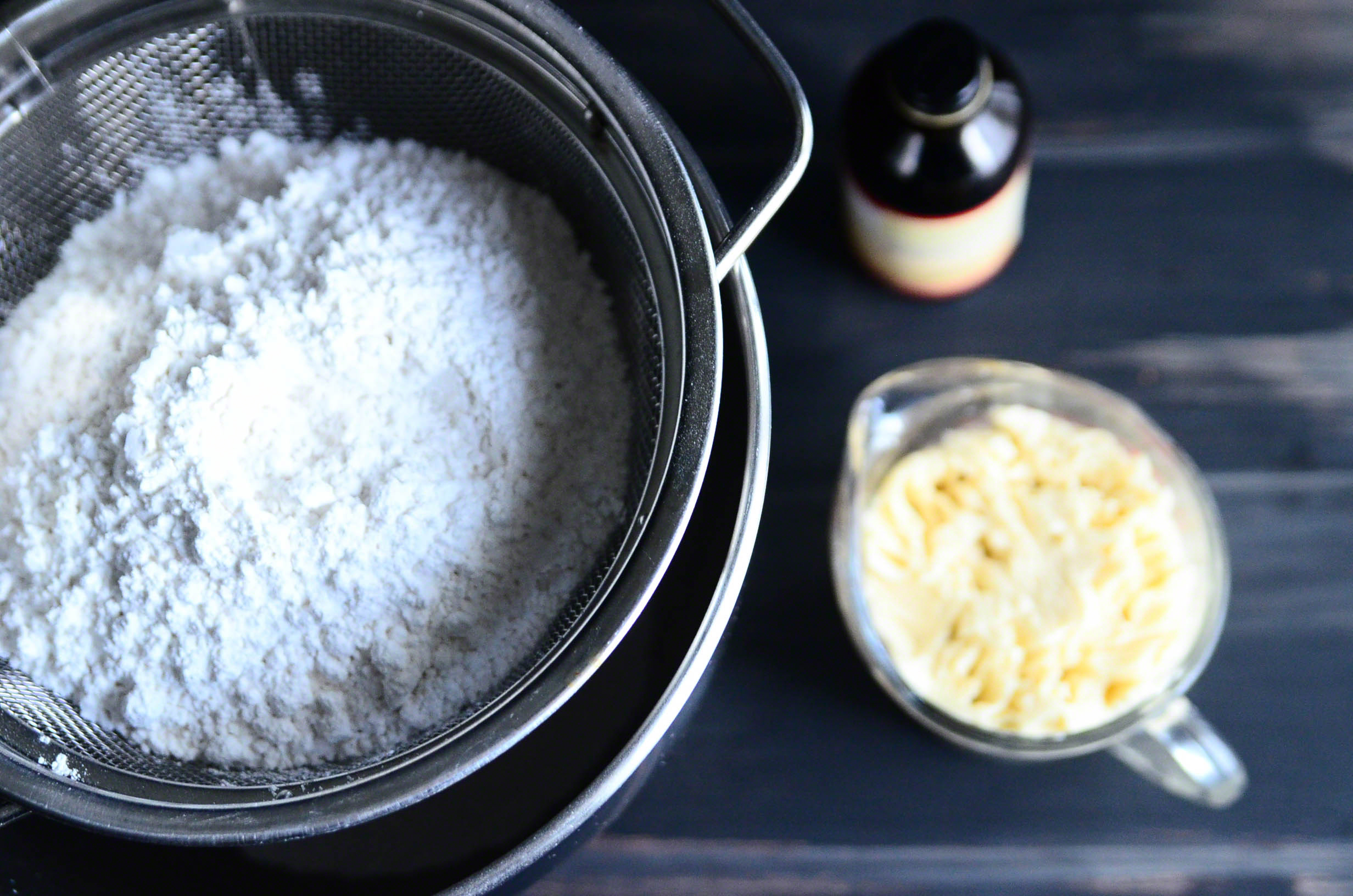 Place Chocolate Frosting in a pastry bag for easy dispensing and cut cooled Chocolate Cake into four squares. Stack as many as you like. The Chocolate Frosting will cover around 2 1/2 to 3 squares so the higher you go the more Chocolate Frosting you'll need to make. I like to cut each square in half length wise and place frosting in-between the slices for extra yumminess. Top with loads more Cocoa Powder and Vegan Chocolate Chips. Get creative and have FUN.
Now you're ALL set. Add some Birthday Candles, Make a Wish, and Get ready to DEVOUR...Chocolate Dream Birthday Cake(Vegan & GF). Enjoy:)